1 Shank & 3 Different size Balls can be Ordered as Individual Pieces or in Sets
CONVERT-A-BALL® Hitch System Products are your answer to multi-need trailer connections. No more wrenches, no more busted knuckles. Three interchangeable balls (1 7/8", 2" and 2 5/16") fit on the 1" shank. The 1 7/8" and 2" balls work great on the 3/4" shank.
Beats the national standard SAE-J684-E for ball hitches. V-5 rated safe!
Stainless steel slide pin with shear strength of 21,000 lbs.
Safety hole drilled for cotter pin
All 1" shanks are rated 10,000# and can be used with 1-7/8", 2" and 2-5/16" hitchballs
All 3/4" shanks can be used with only the 1-7/8" & 2" hitchballs
3/4" stainless steel shanks are rated 5,000#
3/4" nickel-plated shanks are rated 3,500#
Individual Hitchballs & Shanks
Nickel-Plated Shanks and Hitchballs
Stainless Steel Shanks and Hitchballs
Sets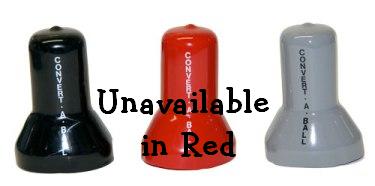 Shank Cover - Protect your Convert-A-Ball shank when you're not towing with it. Just remove your hitchball and slide the cover on your shank. Available in colors Black or Grey.